​Beauty & The Beast, a must-see for audiences of all ages!
Prima Donna Events & The Northern Ballet present Beauty & The Beast!
Unique, exclusive and for the first time in Belgium. With opulent sets and colorful costumes, this fairy-tale ballet is a must-see for audiences of all ages!
A breathtaking choreography by David Nixon CBE and set to a hand-picked score of classic music from the likes of Bizet and Debussy.
Running time 2 hours 5 minutes (approximately)
During the Easter holidays, from 9 to 12 April 2024, in Capitole Ghent.
FAMILY TICKET: GET YOUR FAMILY DISCOUNT WITH THE PURCHASE OF 4 TICKETS!
The discount is automatically deducted when you purchase your family ticket.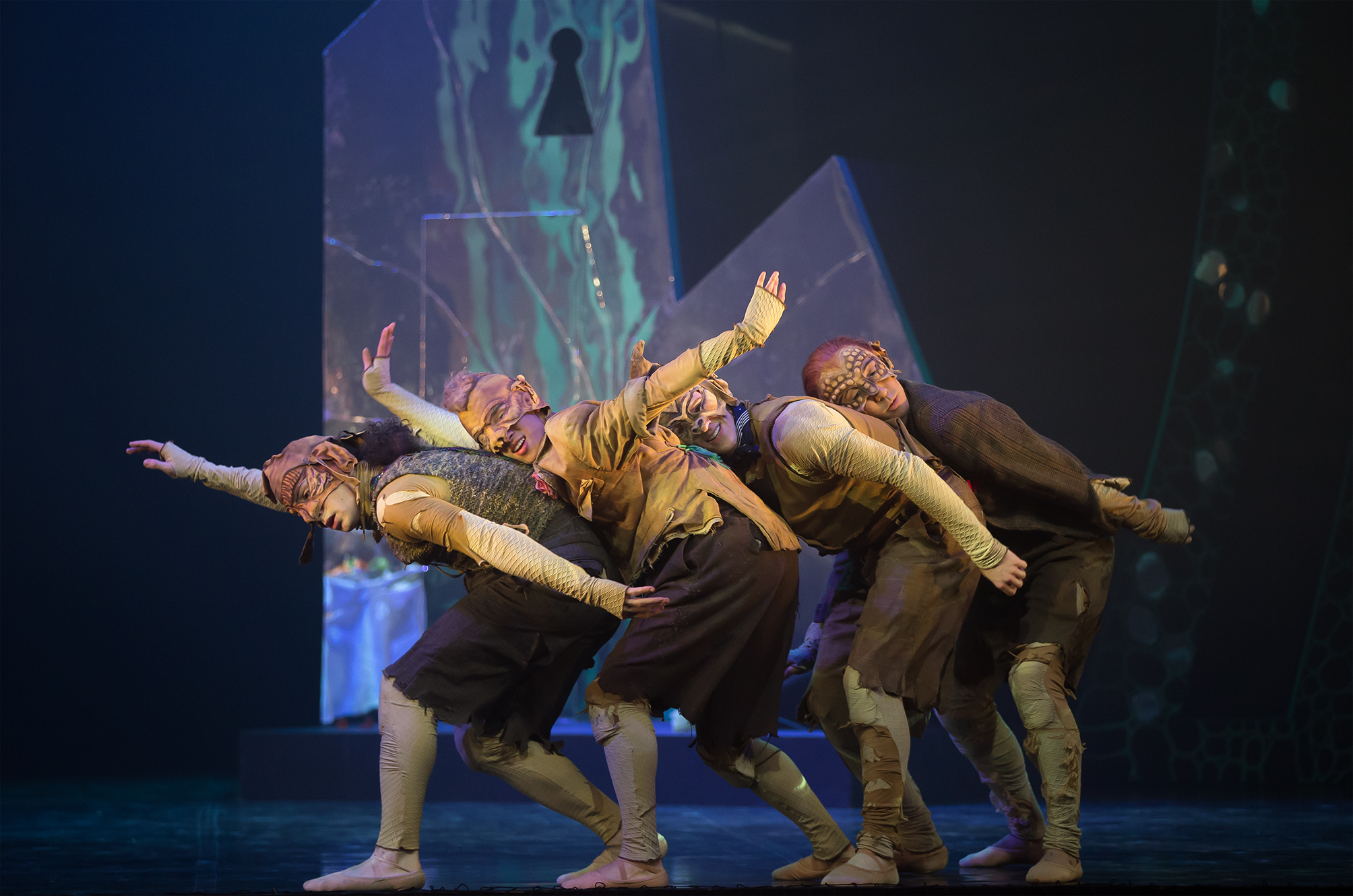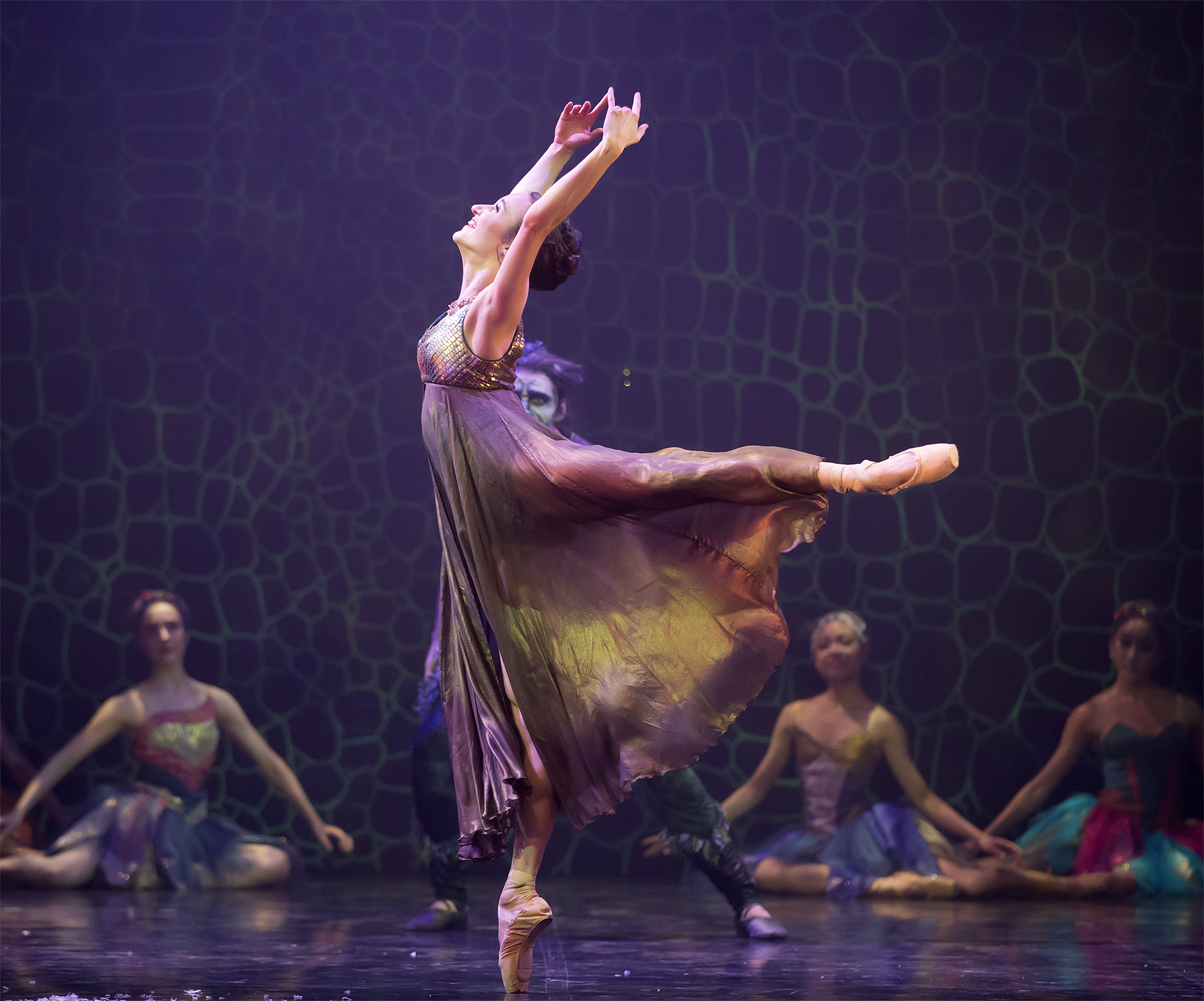 Beauty & The Beast, a timeless love story
When a terrifying creature threatens her father, Beauty selflessly leaves her family to live with the Beast in his castle. As time goes by, she grows strangely fond of her host, who hides an extraordinary secret… A curse that can only be broken by true love.
Act 1
In a mirrored room of a castle, Prince Orian surveys his image with delight. So pleased is he with what he sees, he barely notices the arrival of his manservant. Irritated by the interruption he begrudgingly follows him to the dining room where the Prince's friends await him.
The group of young people amuse Orian, only because they adore him and flatter his appearance, feeding his massive ego. So involved in his self-gratifying indulgence is he, the Prince does not notice the huddled figure that has entered the room.
Angered by such an outrageous intrusion, he refuses the woman's request of food and mocks her appearance. In the midst of the laughter she discards her cloak to reveal she is an exotically beautiful woman – none other than La Fée Magnifique. Stunned, the onlookers become wary and start to distance themselves, all except Orian who realises fear for the first time. The enraged fairy tells the Prince that his bad manners do not match his beautiful appearance so to teach him a lesson she casts a spell upon him, transforming him into a wild beast.
A second fairy enters the melee – she is La Fée Luminaire, sister to La Fée Magnifique. She approaches the Beast and drops a rose in front of him. She lifts his face to hers and places her hand upon his heart – a gesture of love. She tells the Beast that her sister's spell can be broken if he can learn to love and be loved in return. The fairies depart, leaving the Beast alone with his manservant, wailing at his reflection.
Elsewhere in the Kingdom lives a wealthy man and his three daughters, Isabelle, Chantelle and the youngest – his favourite – Beauty. Beauty has a gentle spirit. Every day she picks roses from her garden and serves her father breakfast.
Isabelle and Chantelle, on the other hand, are socialites. They spend their father's money as quickly as it is earned. Unlike Beauty, they wear outrageous fashions and their appetites for new clothes are never satisfied.
One day they arrive home from shopping and prepare for their friends to arrive. The guests are the normal crowd of trendsetters. The men are always most interested in Beauty even though she discourages their attentions. The party is interrupted by several men in black who confront Beauty's father with an enormous bill to pay and an official paper notifying him that he no longer has any money and all the possessions and the house must be surrendered.
The men begin to load up all the family's belongings into a removal truck, before taking down the very walls of the house. The party guests offer no help to the family, departing quickly. The sisters' tantrums, as they are stripped of their beautiful clothes, can be heard for miles. Beauty tries to comfort her family as they stand alone with the trees around them.
The family wanders through the forest, desperate until the discovery of suitcases filled with useable clothing and a broken down tour bus. Beauty and her father gratefully accept this stroke of good fortune and Beauty starts to make a home. Her sisters offer little help – they cannot bear to work and miss their beautiful possessions.
Their father leaves the girls and ventures into the forest to seek food. Soon he becomes lost. Despairing at his lack of skills he wanders farther into the woods. He suddenly finds himself in an enchanted garden in which he sees the most beautiful rose. Unable to resist, he plucks it as a gift for Beauty.
Immediately he is set upon by a hideous creature. Certain that he will die, his thoughts turn to his daughters. His vision stops the Beast who offers to spare the man his life if one of the girls comes to live with him. In weakness and fear the father agrees and the Beast gives him a key that will guide him back to the Beast's castle.
Beauty continues to make the best of the new home and tries to help her sisters. She sits down from her work and while day dreaming falls asleep. La Fée Luminaire sends a vision of the Prince to Beauty's dreams. Beauty is awoken by the reappearance of her father. He shares his sad tale with the girls. Isabelle and Chantelle blame Beauty saying that had their father had not picked the rose for her all would be well. Their father quiets them and says he will return himself but he just wanted to say goodbye. Beauty encourages him to rest and while he sleeps she takes the key and the rose and runs into the night.
Beauty arrives at the castle and her new life begins. Her first encounters with the Beast are frightening but she soon learns that he will not harm her. The Beast tries to behave like a human but cannot help frightening and repulsing the young woman. He becomes despondent. Beauty witnesses this sad moment and understands that she needs to help him. Although the Beast offers her freedom she chooses to remain with the creature and care for him. As the day draws to an end Beauty prepares to sleep and uses the key to unlock the massive door, shaped like a broken heart.
Act 2
The Beast remembers his face as the Prince. If only he looked like that now he thinks he would have a chance at winning Beauty's love. He gazes upon the sleeping woman and dreams of what life could be like.
Calling up his own image he soon sees his old arrogance. He wants to change, to lose his conceit and listen to his heart. He imagines life and love with Beauty but he finally despairs, thinking it will never be, and watches his dream fade.
The castle transforms into a place of joy and magic – the atmosphere changing to reflect the new feelings of the Beast. Beauty finds herself oddly attracted to this strange character that treats her with kindness and generosity and is even playful with her. She begins to understand that it is the heart that calls forth love and that the outward appearance is not necessarily reflective of the person within.
The Beast is content to just be with his Beauty but she becomes distracted with an image of her father unwell. She tells the Beast that she must go to see him but will return. The Beast sadly agrees but as soon as she leaves he despairs of her return, and becomes desperate.
Suddenly Beauty comes running back – having realised she wants to tell the Beast she loves him. In the instant she speaks the words, the spell is broken and the Beast transforms back into the Prince, a new man. Surprised, Beauty now understands that this is her Beast and embraces him.
They celebrate their marriage and live happily ever after – as people do, in fairytales worth telling!
Beauty
Gentle and modest, the opposite of her sisters. She is sent to the Beast's castle to save the life of her father.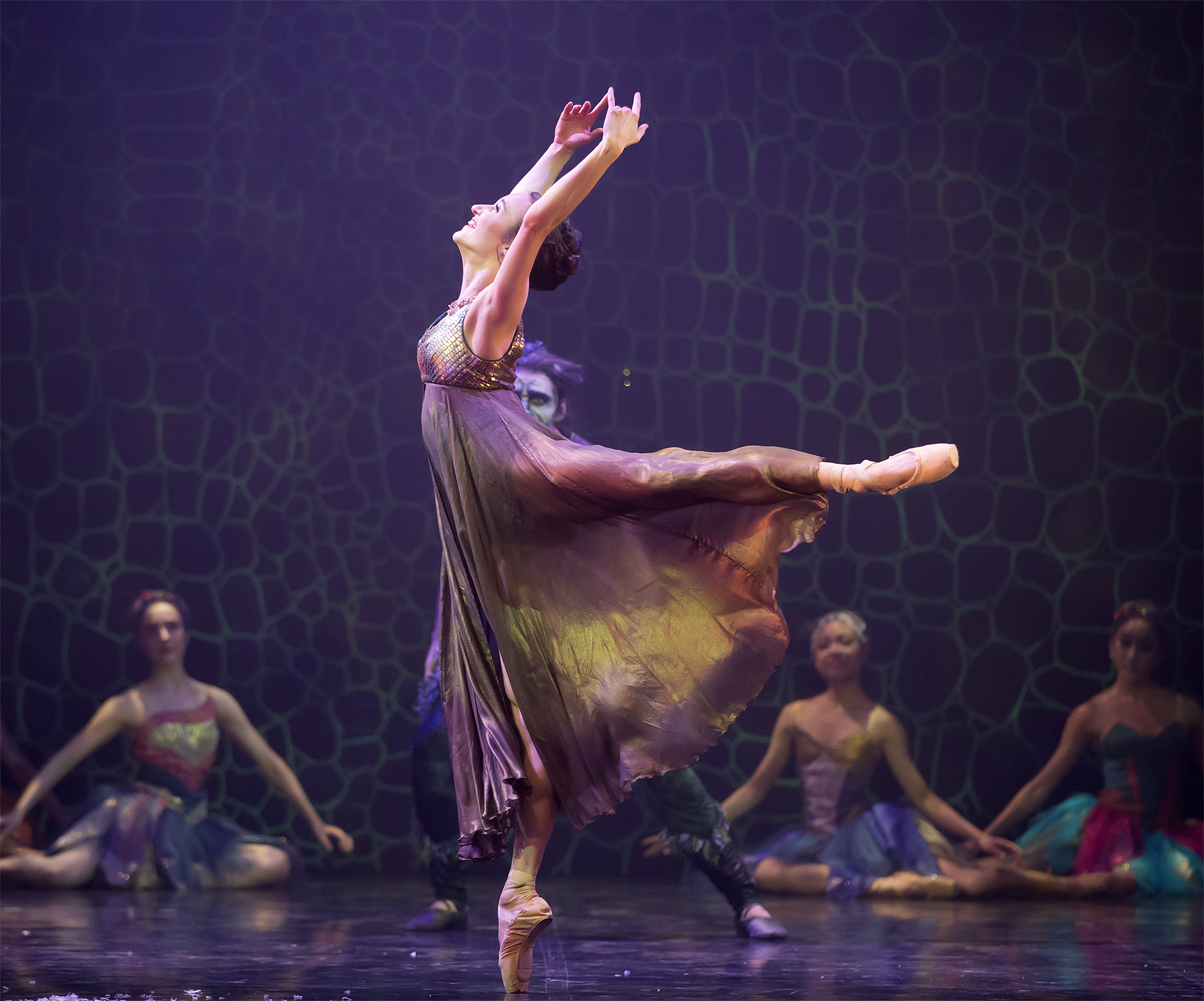 Beast
Cursed by the evil fairy, the Beast lives a solitary life in his castle and hopes to earn Beauty's love to lift the spell.
Prince Orian
Vain, egotistical and self-centered, the Prince lives a superficial life.
Beauty's Father
A wealthy man and father to Beauty, Chantelle and Isabelle.
Chantelle & Isabelle
Beauty's socialite sisters, they have a passion for fashion and an insatiable appetite for spending their father's money.
La Fée Magnifique
An evil fairy and sister to La Fée Luminaire. She transforms Prince Orian into a beast.
La Fée Luminaire
A good fairy and sister to La Fée Magnifique. She tells the Beast that true love can break her sister's curse.
MUSIC SELECTION
Choreographed by David Nixon CBE and set to a hand-picked score of classic music:
Saint-Saëns:
Danse Macabre
Adagio Symphony no. 3 Organ
Bizet:
Seven movements from Jeux d'enfants
Petit mari, petite femme
Debussy:
Dialogue du vent et de la mer
La fille aux cheveux de lin
Clair de Lune
La neige danse
Francis Poulenc: Concerto in G minor for Organ Strings and Timpani
Glazunov:
The Seasons – Winter
The Seasons – Autumn
CREATIVE

TEAM
Choreography, Direction and Costume Design: David Nixon CBE
Set Design: Duncan Hayler
Lighting Design: Tim Mitchell
Costume Design Assistant: Julie Anderson
Music Arranger: John Longstaff
BIOGRAFIE

DAVID NIXON CBE

David Nixon was Artistic Director of Northern Ballet from 2001 to 2022.

David trained as a dancer, first in his home town of Chatham, Ontario and then at the National Ballet School of Canada where his training began in earnest. It was during his time there that he first became interested in choreography, helping to revive a choreographic workshop with the approval of school director Betty Oliphant. After further training in Europe he returned to Canada to train with Erik Bruhn and the great Russian teacher, Eugene Valukin.

David's career began at the National Ballet of Canada where he progressed rapidly through the ranks to become a Principal Dancer, dancing lead roles in the classical and contemporary repertoire. In 1985 he joined the Deutsche Oper Ballet in Berlin as Principal Dancer where he won the Critics' Award for Best Male Performance (1987) and continued to increase his own choreographic output. This included producing and directing a successful mixed programme, David Nixon's Liaisons, at the Hebbel Theatre, Berlin in 1990.

David left Berlin for a series of Principal Guest Artist positions with National Ballet of Canada, Bayerisches Staatsballett, Munich and Royal Winnipeg Ballet before returning to Deutsche Oper Ballet in 1994 as First Ballet Master. His Guest Artist credits also include: Birmingham Royal Ballet; Komische Oper; Deutsche Staatsoper; Hamburg Ballet; and Sydney City Ballet.

In 1994 David became Artistic Director of BalletMet in Columbus, Ohio, USA. During his six years with the Company he added 16 world and 15 company premières to the repertoire.

Since joining Northern Ballet, David has added an impressive array of new works to the repertoire including: Madame Butterfly (nominated for an MEN Award); Wuthering Heights; I Got Rhythm; Swan Lake; A Midsummer Night's Dream (nominated for an Olivier Award and MEN Award); Peter Pan; Dracula; The Three Musketeers (winner of MEN Award and nominated for an Olivier Award); A Sleeping Beauty Tale; The Nutcracker; Hamlet; Cleopatra; Beauty & the Beast; The Great Gatsby (nominated for a National dance Award and UK Theatre Award); Cinderella (nominated for a Manchester Theatre Award); The Little Mermaid (winner of a BroadwayWorldUK Award); and several short works. His adaptation of Dracula became Northern Ballet's first performance to be broadcast live in cinemas on Halloween 2019.

David's productions have been staged worldwide including Europe, Canada, the USA and South Africa. Most recently he reproduced The Great Gatsby for West Australian Ballet in 2017.

In 2020, David's choreography featured on primetime television on BBC One's The Greatest Dancer.

David was voted Director of the Year by readers of Dance Europe in 2003 and 2006, and in 2018 was awarded the Ken McCarter Award for Distinguished National Ballet School Alumni by Canada's National Ballet School.

Under his directorship Northern Ballet has also won several awards: Critics' Circle National Dance Awards (Audience Award) 2004, 2005 and 2006; Critics' Circle National Dance Awards (Patron's Award) 2009; Taglioni European Ballet Awards (Best Company) 2014; South Bank Sky Arts Awards (Dance Award) 2016 for 1984 and 2020 for Victoria, UK Theatre Awards (Achievement in Dance) 2018. Northern Ballet has also been nominated for many prestigious awards: South Bank Sky Arts Awards (Dance Award) 2017 for Jane Eyre; UKTheatre Awards (Achievement in Dance) 2016; Critics' Circle National Dance Awards (Outstanding Company) 2014, 2015, 2016, 2017, 2018, 2019 and 2021.

In January 2010 David was awarded an OBE for his services to dance in the Queen's New Year Honours list.